As soon-to-be parents, you might have already received a lot of advice on ways to secure your baby's future. From insurance policies to stem-cell banking, you must have heard it all. And while these choices may seem overwhelming, they play a crucial role in determining your baby's future.
Cord blood banking is the foremost and the reliable health security that you can provide to your baby. Stem cells can treat more than 80 life-threatening diseases and provide several health benefits to the entire family.
However, one daunting question that the parents usually face is How to choose the right cord blood bank? Selecting a trustworthy and credible cord bank is crucial for the baby's safe and secure future. Hence, we want to make the process easy for you.
We've put together a quick guide to help the parents choose the right cord blood bank.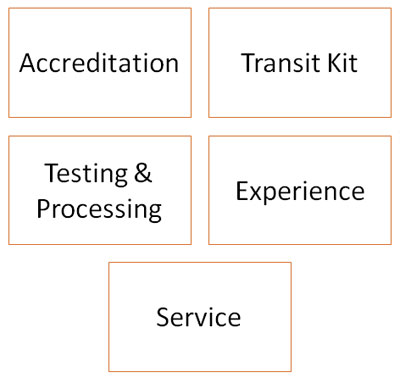 Accreditation:

The cord blood bank should be certified and accredited by the regulatory authorities. Being accredited and licensed proves that the stem cell bank is legally permitted to operate and follows standard guidelines provided by the regulatory authorities.

Transit Kit:

After collecting the cord blood, the sample is transported to the stem cell bank's laboratory for testing, processing, and storage. Hence, the safety of the blood sample during transit is of utmost importance.

The stem cells can degrade when exposed to extreme temperatures. The parents should check the material and insulation of the transportation kit to ensure that the kit material maintains an optimal temperature inside, regardless of external environmental conditions.

Testing and Processing:

The cord blood sample has to undergo specific tests upon collection. These tests include total cell count, stem cell viability test, HLA matching, and testing for infectious diseases like HIV, Hepatitis, etc.

Experience:

Ask the cord blood banks how much of their customers' cord blood has been used for transplants and other therapies. The number of cord blood units released by the bank can provide an insight into the company's success and its ability to deliver viable cells.

Service:

The baby can arrive anytime. Hence, make sure that the cord blood bank has an on-call representative available at all times to guide you through the process. Also, ensure that you receive the collection kit and know about the extraction procedure well in advance to avoid any last-minute confusion and panic.
Biocell® - India's Top Umbilical Cord Blood Bank
When you choose Biocell® you get a complete solution, from the safe collection of the cord blood to testing and analysis and secure banking to ensure that the stem cells are available when needed.
Biocell® is one of India's top Umbilical Cord Blood Banks. Since its launch in 2009, it has expanded in over 25 cities in India and preserved the cord blood of over 50,000 families to date.
Why choose Biocell®?
24x7x365 Collection & Logistics Services
Cord Blood Processing with Double Sedimentation Spin Technology
A pathologist reviewed & approved the Certificate of Cryopreservation
Cryogenic storage auto-check on every 60 seconds
Dual Site Storage
HLA Typing for Genetic Match
Biocell® HPC ProfilingTM for HSC & HPC stem cell profiles
Critical Congenital Heart Disease (CCHD) Screening for newborns
The decision to opt for cord blood banking should be a well-planned decision. Hence, take your time and evaluate the available options carefully.
To learn more about Biocell Cord Blood Bank
Visit: https://biocell.in