Science & Technology has led to phenomenal discoveries, and the greatest of them is Cord Blood Stem Cell Banking. Thanks to science, parents can now avail the great potential of cord blood and secure their baby's future. Cord blood banking also provides a long-term stem cell source for the entire family.
What are Cord Blood Stem Cells?
In a mother's womb, an umbilical cord connects the fetus to the placenta. The umbilical cord provides nutrients and removes waste from the baby. After the baby's birth, the blood remaining in the placenta and the umbilical cord is called cord blood or placental blood. Cord blood is abundant in stem cells, called Haematopoietic Stem Cells (HSCs). These cells help in regenerating the immune system & replenishing the blood.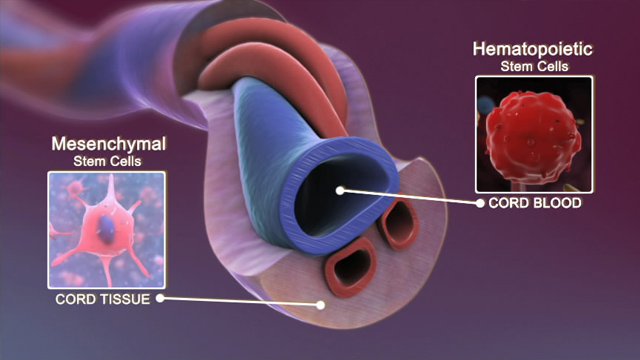 (Image adapted from https://www.umassmed.edu/AutismRITA-T/blog/blog-posts/2018/2019/autism-and-stem-cell-therapy/)
Fig.1. Umbilical cord blood is a rich source of Hematopoietic Stem Cells (HSCs)
Applications of Cord Blood Stem Cells:
Hematopoietic Stem Cells (HSCs) or Cord Blood Stem Cells are widely beneficial because of their magnificent ability to develop into different types of blood cells.
Some of the applications of cord blood stem cells are as follows: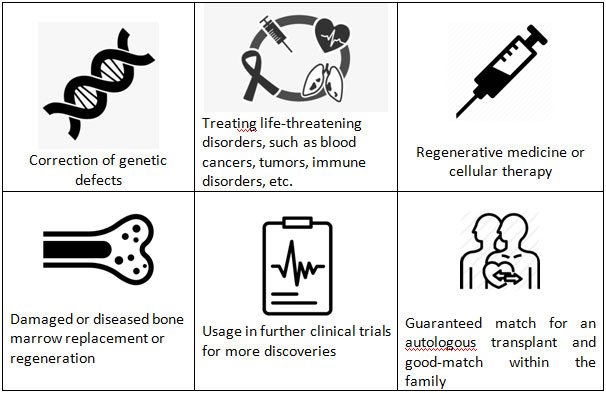 Cord Blood Stem Cell Banking Options:
When it's time to finalize the cord blood bank, parents have three choices: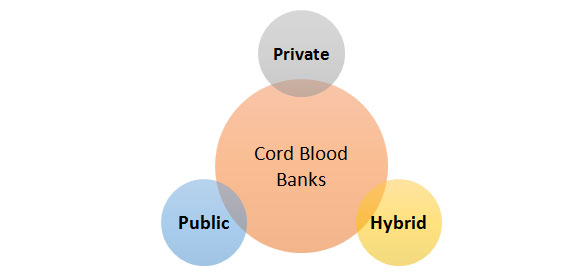 Private (commercial) cord blood bank: The blood is preserved, exclusively, for use by the donor and family members. These banks charge a high fee for the entire collection procedure and the yearly storage.
Public cord blood bank: Stored blood can be used by anyone who needs it or even for research purposes. These banks do not charge the parents for preservation.
Hybrid cord blood bank: They offer the services provided by both private and public cord blood banks. The cord blood is available for public use, and they also store stem cells for personal use.
The extraction of potent stem cells is a painless & harmless procedure. After the birth, the medical expert clamps the umbilical cord at two places, about 10 inches apart. The umbilical cord is severed from the mother & baby. A syringe collects about 40 milliliters or more of cord blood. The collected cord blood is sealed & sent to the cord blood bank for preservation.
Biocell: Umbilical Cord Blood Stem Cell Banking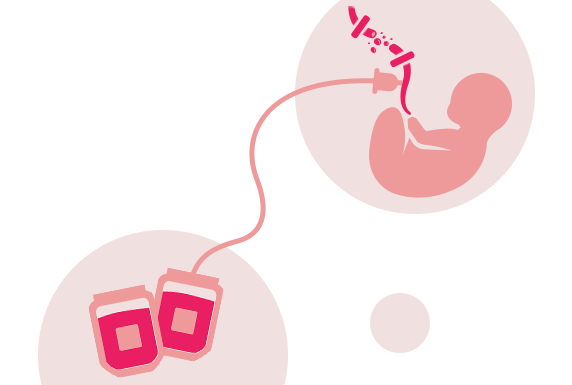 (Image adapted from Singapore Cord Blood Bank)
Fig.2. Umbilical Cord Blood Banking
Biocell® is India's leading Umbilical Cord Blood Bank, trusted to store life-saving stem cells for the health needs of your family.
Biocell® offers an integrated solution, right from safe & risk-free collection of cord blood to analysis, then finally secure banking to ensure that stem cells are well-available for treatments of the family, if & whenever required in the future.
Biocell® was established in 2009. It has since then expanded to over 25 cities in India and preserved the cord blood of more than 50,000 families to date. The parents have found Biocell® trustworthy for its quality and round-the-clock services.